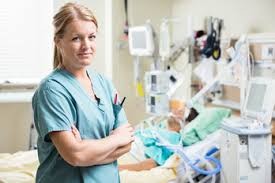 Traveling Healthcare Professionals are in demand across the country and in most specialties. Is it time to decide which specialty you would like to pursue or enhance in your career? Have you thought about working in Long Term Acute Care?
Long Term Acute Care Registered Nurses (LTAC RN) bridge the transition from intensive care to home. Acute Care patients normally transfer from an intensive care unit and are receiving ventilator assistance. Some patients have large open wounds or other acute problems. The patient may be on inotropic agents and require careful monitoring. Most patients in these units, age 18 and up, have an average stay of 25 days or longer. LTAC RN's state that one of the most challenging aspects of caring for these patients is the management of multiple, long-term, complex medical conditions, multiple system failures and the patient's anxiety. Long Term Acute Care is the final stop when trying to wean patients off a respirator and most patients in these units have been in the hospital for many months by the time they reach this phase. It is a long, hard road for them and some are nearing wit's end by the time they reach this point in their recovery.
The RN or LPN must spend considerable time with family members in addition to caring for patients. Family members may be frustrated by their loved one's perceived lack of progress. Some may also have travelled long distances to visit their loved one and can be unfamiliar with Long Term Acute Care.
Critical thinking skills and independence are essential in this setting. Unlike the Intensive Care Unit, the physician on call is not in the unit and therefore the LTAC nurse may work more autonomously than typical in a critical care setting. RN LTAC must be able to manage stress appropriately, make decisions under pressure and manage the anger/fear/hostility and violence of others appropriately. RN's may be exposed to toxic/caustic chemicals and detergents and extreme hot and cold conditions. Exposure to communicable diseases, blood and/or body fluids and exposure to dust/fumes and gases are also possibilities.
You can find out more about Long Term Acute Care by clicking here. And good luck in whichever specialty you choose to pursue.
Mary Crawford, HealthCare Employment Network...