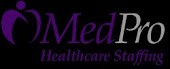 As one of the nation's leading travel healthcare staffing agencies, MedPro cares about its employees. Operated by nurses, for nurses and other healthcare professionals, it is a trusted and established company that has placed healthcare professionals in some of the top healthcare facilities across the nation. It delivers electronic credentialing, superior financial compensation, and a warm and compassionate culture that makes MedPro second to no other travel healthcare company.
MedPro Healthcare Staffing is a leading provider of temporary and contract staffing services to healthcare facilities throughout the US. Since 1983, MedPro has successfully served the needs of our employees and clients by placing thousands of quality healthcare professionals into facilities seeking top talent.
MedPro currently has contracts with over 300 organizations to service more than 2500 healthcare facilities in the US. The company counts among its clients many prominent healthcare facilities and organizations.
MedPro's personal touch and extensive experience placing domestic and foreign-trained professionals set them apart from other recruiting firms. MedPro offers exciting positions across the US. Use new locations and settings to gain a fresh perspective on your own abilities.
Click here to learn more about MedPro Healthcare Staffing.
Mary Crawford, HealthCare Employment Network