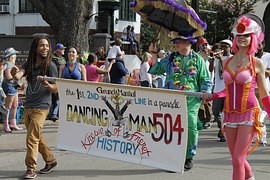 And that's the truth! New Orleans is definitely one of my favorite places to visit and I would have to say it is one of the world's most fascinating cities. It is truly a melting pot of music, food and culture. It's always time to visit and experience one of America's historic and culturally rich destinations.
In the fall of each year New Orleans hosts the Treme Fall Fest where you can explore and celebrate the historic Treme neighborhood. Local music and food of this cherished New Orleans neighborhood brings people from all over the world. And, of course all year long there are street musicians on the corners and always so much great music in all the clubs throughout the French Quarter and other parts of the city. And, of course, you can't forget Mardi Gras. I haven't had the pleasure of experiencing Fat Tuesday in the French Quarter yet, but I definitely do intend to!
New Orleans has some real one of a kind attractions. My daughter and I visited Lafayette #1 Cemetery which we have seen in numerous TV shows and movies. There is nothing like these "Cities of the Dead". There are elaborate tombs dating back to the 1600's and plenty of tours available so you can learn the local lore and all about the "hauntings".
The French Quarter is world renowned with elegant hotels, fantastic music, restaurants, shopping and much more. There are great buggy tours available. Just go down to Jackson Square and pick one up. And of course while you are there don't miss the coffee and beignets at Café Du Monde. You can't go to New Orleans and not go there. I don't drink coffee but I can honestly say I enjoyed the Hot Chocolate with my beignets.
New Orleans is also home to some great medical facilities including University Medical Center New Orleans, Tulane Medical Center, Children's Hospital New Orleans, Ochsner Medical Center, and the Community Care Hospital, just to name a few. Travel nurses and healthcare travelers will find many job opportunities in New Orleans and the surrounding area.
Needless to say, I have not even scratched the surface of all that New Orleans has to offer. Click here if you would like to learn more about New Orleans.
As always, safe travels!
Mary Crawford, HealthCare Employment Network