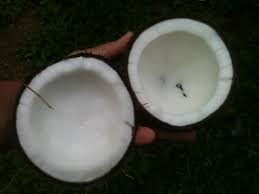 I am a big fan and user of coconut oil. I use it for everything from moisturizer for my skin to the oil I fry my eggs in. So many people are not aware of all the great qualities of coconut oil. It is an affordable replacement for many household items. Let's go through a few of the many uses I have found for this amazing staple.
Breath and mouth freshener – Coconut oil has antibacterial and antifungal properties. Gargling for 20 minutes with a spoonful of coconut oil clears up germs and helps whiten your teeth, keep your breath fresh and your gums healthy. I have been doing this practice, known as oil pulling, every day for more than 2 years and it has made amazing difference in my teeth.
Body Moisturizer – this is another of my favorites. I oil myself up with a mixture of coconut oil and some essential oils a couple of times each day. You can use the coconut oil by itself or as a base, like I do, to make your own mixture. It works on your lips as well as a great lip balm, once again, you can use it alone or make a mixture of your own.
Relieves Itching – from all sorts of causes, bug bites and burns and bruises can be soothed with coconut oil as well.
Deodorant – Make your own natural deodorant by mixing coconut oil with cornstarch, baking soda, arrowroot powder and a scented oil.
Conditioner – You can moisturize your hair by applying a small amount of coconut oil to your wet hair and it will help seal in moisture. Or, you can make a mask for your hair. After shampooing apply coconut oil to the wet strands and twist hair into a bun. Let it sit for five minutes or more and then rinse.
Lice Remedy – Rinse the hair with apple cider vinegar first. Once this has dried massage coconut oil into the entire head and let it sit for 12-24 hours. Brush hair with a fine-tooth comb and then shampoo.
Makeup Remover – just use a little coconut oil right onto your skin and the makeup with wipe away. Then wash and rinse as usual.
Shaving Cream – Smooth the coconut oil onto your legs before shaving and your razor will glide smoothly and your skin will get moisturized as well.
Body Scrub – Combine a half cup of sea salt or sugar with the same amount of melted coconut oil and then massage it into any rough patches with your fingers. Add a little more salt or sugar for the tougher spots like heels and/or elbows.
Cooking – I use coconut oil in most of my cooking in place of butter. Coconut oil has a much higher temperature tolerance than extra virgin olive oil. The fat molecules in the coconut oil stay intact which makes it a safer cooking oil. It is composed mostly of MCFA (medium-chain-fatty-acids) and is extremely useful for providing sustainable energy. You can use coconut oil to replace just about any oil in a recipe and it's much better for your health.
Smoothies – you can add coconut oil to almost any smoothie to give it a fatty "ice cream" texture and flavor.
Staying healthy is such an important part of life for all of us, especially traveling healthcare professionals and travel nurses, who are always on the go. Anything that can make life easier is much appreciated and coconut oil is one of those things. I have several bottles in different places in my house where I use it daily from cooking to cleaning to moisturizing my body. Try it out. You will be amazed at the versatility of this very affordable option.
Mary Crawford, HealthCare Employment Network