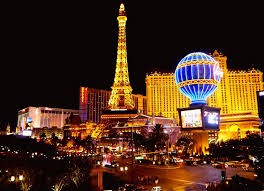 Have you ever been to Las Vegas, Nevada? If not, maybe it's time for you to check it out. It is a beautiful city in a valley surrounded by amazing mountains, canyons, the Hoover Dam and so much more. I like to tell people that when I went to Vegas I didn't smoke, drink or gamble, all the things you think make Vegas, and I had a great time. I saw so much cool stuff and great shows and that was years ago. I spent a day just walking down the strip checking out everything that I could find that was free. And there was plenty to see. I was there in July and the heat was pretty intense but I liked it as I had never experienced that dry heat, very different from my humid home of Florida. The weather in Las Vegas is normally pretty warm, except of course in the summer months, when hot doesn't even quite describe it. Normal highs during this time can be in the 100's each day, but in the winter the lows are normally only 40's at night with warm daytime temps.
Las Vegas, Nevada started out as a railroad town with the completion of the San Pedro, Los Angeles and Salt Lake Railroad that linked Salt Lake City and Southern California. Since there was water here it was an ideal rest stop and refueling stop. During the 1930's the construction of the Hoover Dam brought in lots of workers and this triggered a population boom during the Great Depression which helped boost the valley's economy. Resorts started being built on the original strip in the 40's. This original strip was called Glitter Gulch and was located on Fremont Street between Main and Third Streets. During the 60's hotels and casinos on the Strip and Fremont Street underwent facelifts and big additions. Howard Hughes bought several hotels and other businesses in Vegas during this time and helped paved the way for the corporate ownership of the hotels and casinos that followed. Population in Las Vegas boomed and nearly doubled between 1985 and 1995. And Vegas is still booming today with a population of over 600,000 and annual visitors of in excess of 42 million annually….wow!
Needless to say, there are plenty of great medical facilities in the area for the Travel Nurse or Healthcare Traveler to line up a travel assignment and check it out. Just a few of the facilities in the area include: Sunrise Medical Systems, MountainView Hospital, Valley Hospital Medical Center, Summerlin Hospital Medical Center and University Medical Center. Travel nursing is booming all across the country and Las Vegas is no exception to this rule.
Maybe it's time for you to check out Vegas. Click here if you would like to learn more about Las Vegas. Click here to see travel assignment jobs available in Vegas, or here for More Information to get started on your first or next adventure!
Mary Crawford, HealthCare Employment Network