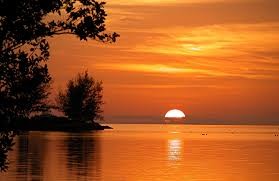 There are seasonal jobs posted for travel nurse assignments in Key West Florida for the winter months. Doesn't that sound like a great plan? Winter in Key West, Florida? Or can you even call it winter when the average temps are still in the 70's and 80's?
Key West, definitely a beautiful little piece of Florida and worthy of a visit if you haven't been there. And, the winter months means no hurricanes to worry about. The Florida Keys are a different world and Key West is a world unto itself, with a bustling downtown and all kinds of activities and festivals.
Key West is the southernmost city in the United States and it can be reached by flying into the Key West International Airport from some places but most will have to come to Miami and drive from there across the scenic Overseas Highway. It is quite an experience….a simple four lanes, two in each direction with water on all sides. The islands are connected with bridges and there is even one bridge that is seven miles longs. The water just gets more and more blue and beautiful as you travel south from Miami on this little road trip to Key West. The Florida Keys Overseas Highway, the only way in and out of the keys, has been designated an All American Road by the National Scenic Byways program.
You are in for a real treat if you have never been to Key West. Diving, snorkeling, kayaking, dolphin encounters are just a few of the many fun things abundant in Key West and the Florida Keys. You won't want to miss world renowned Duval Street for a cocktail or some shopping. Of course, some of the finest fishing can be found in and around Key West.
If you can't find enough to do in Key West to keep you busy you have the whole 120+ mile chain of "keys" to explore as well. I think you can definitely find some cool stuff to explore and see in Key West. The Hemingway Home and Museum is a registered national historic landmark and offers guided tours of the home and grounds. There are even six-toe cats roaming the grounds that are descendants of Hemingway's own pets. There are many more museums in Key West as well. There is a newly renovated performing arts center, The Key West Theater, that hosts concerts, original plays, films and more.
Key West is also home to several major medical facilities including Keys Medical Center and Truman Medical Center.These facilities as well as others are always in need of travel nurses so maybe it's time to visit the Florida Keys. Click here if you would like to learn more about Key West or click here if you would like to fill out our Request for More Info to get started on your Key West adventure!
Mary Crawford, HealthCare Employment Network