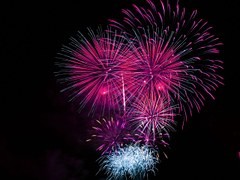 All of us here at ​HealthCare Employment Network, HealthcareTravelers.com, would like to wish everyone a wonderful Fourth of July weekend!
Also known as Independence Day, the Fourth of July has been a federal holiday since 1941. It was a tradition long before with celebrations going back to the 18th century and the American Revolution.
Did you know that when the United States Founding Fathers signed the Declaration of Independence in 1776, they did so as the justification to revolt against the British and listed charges against the King of England? The Declaration was signed by 56 representatives of the 13 colonies and was the start of war with the British.
Most towns and communities across America will celebrate with fireworks and barbecues. There are always plenty of events happening no matter what part of our beautiful country you may find yourself traveling in as a healthcare professional.
Be safe and have fun and hopefully enjoy some outdoor sunshine sometime during the weekend as well!
Mary Crawford, HealthCare Employment Network