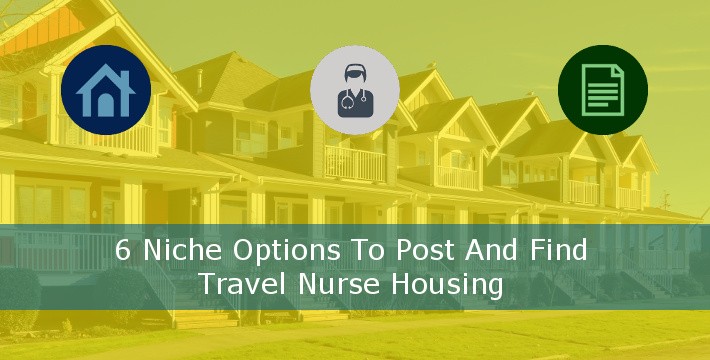 ​We routinely receive inquiries from property owners interested in renting to travel nurses. And why not?! Travel nurses are excellent tenants. Meanwhile, travel nurses are always looking to secure the perfect housing option. And why not?! Getting a great deal on housing can help the traveler save money while offering all the amenities they need. So in this blog post, we'll discuss 6 niche options to post and find travel nurse housing. We'll also provide some insight on the travel nurse housing market for property owners.
What Property Owners Ought To Know About The Travel Nurse Housing Market
We receive many inquiries from property owners who want to notify travel nursing companies that they have a housing option for travel nurses. For example, we received a call from a property owner in Santa Barbara, California who asked if we knew which agencies she should contact to inform about a property that she wanted to rent to travel nurses. The property owner thought it would be best to let the agencies know about the housing because she thought that agencies provided travel nurses with housing in all cases.
Hospitals Typically Work With a Large Number Of Travel Nursing Agencies
While this approach might work in some cases, there are several things that property owners ought to know about the travel nurse housing market in order to achieve the best results. First, there are hundreds of healthcare staffing agencies. By many counts, there are at least 300 agencies engaged in staffing travel nurses.
Moreover, hospitals typically utilize many different agencies to help them get their positions filled. It's not uncommon for over 100 agencies to have the ability to staff travel nurses at any one facility.
Travel Nursing Agencies Don't Always Provide The Housing
The second thing that property owners ought to know about the travel nurse housing market is that agencies do not provide housing in all cases. Instead, travel nurses are typically given the option of having the agency find and secure the housing, or having the agency provide the travel nurse with a monthly lodging stipend. If the travel nurse chooses the lodging stipend, then the travel nurse is responsible for finding and securing their own lodging.
It's difficult to tell what percentage of travel nurses take the stipend versus what percentage take company provided housing. That said, if I was forced to guess what the percentages are, I'd probably say 50/50. However, I wouldn't be surprised if it was more or less in either direction. It's also important to note that my experience indicates that travel nurses who work with the biggest companies in the business tend to take company provided housing more often than travel nurses who work with small and mid-sized companies.
Large Travel Nursing Companies Tend To Work With Large Property Managers
The third thing that property owners should know about the travel nurse housing market is that larger companies are prone to working with established property management companies. The largest companies in the business are placing hundreds of travelers in company provided housing so there are several advantages for them to use established property management companies. These advantages include bulk discounts, ease of use, and consistency.
Takeaways For Property Owners
So, what does all this mean for property owners? For starters, informing only agencies about your housing option will expose you to only part of the travel nurse housing market. Travel nurses seeking housing on their own wouldn't know about your rental unless their agency went out of its way to tell them about it.
Also, given the number of agencies that hospitals typically work with, it would be very difficult to contact them all, find the right person to speak with, and get all of the details ironed out. That said, it's always worth a shot for property owners to call the hospitals in their area, ask to speak with the staffing office, and find out what agencies the hospital uses to fill it's travel healthcare needs. In some cases, you may get lucky and find a hospital that works with very few agencies. You can then contact those agencies to discuss your housing option.
It's also important to know that there are many hospitals that have exclusive contracts to work with one agency. However, the agency will sub-contract with many other agencies to help fill the openings. So, the hospital may think they're working with only 1 company when in fact they're working with many.
The Problem With General Housing Websites
So, there needs to be a way for property owners to get the word out to both agencies and travelers. And if you're a property owner who is interested in renting specifically to travel nurses, then relying on websites like AirBnN, VRBO, and Craigslist just won't cut it. You'll receive inquiries from everyone, not just travel nurses.
Of course, this is a problem for travel nurses too. Travel nurses typically work 13 week contracts and many property owners aren't interested in renting their properties short term. And on sites like AirBnB, many property owners aren't interested in renting for so long. So, travel nurses are often denied by property owners advertising on general housing sites due to the length of stay.
That said, many travel nurses do indeed use the general websites and have great luck doing so. It's important to note that agencies often use general websites to find housing for their travel nurses as well. However, small to mid sized agencies are more likely to take this approach. Therefore, property owners interested in renting to travel nurses can certainly list their properties on these sites. They just have to be willing to put up with all the general inquiries as well.
Ideally, there would be a burgeoning marketplace or service that catered specifically to this niche. That way, travelers and the property owners interested in working with them would be able to connect easily. The good news is that there are several niche options for travel nurse housing. Here is a list along with some information about each option.
1) Travel Nursing: Places/Rooms For Rent FaceBook Group
Travel Nursing: Place/Rooms For Rent is a Facebook group started by Rachel Shafer. Rachel is a Travel Nursing Recruiter with RN Network, one of the biggest travel nursing companies in the nation. She is also a Registered Nurse! The group has over 8,000 members.
The group provides a forum for travel healthcare professionals to discuss housing options and potentially connect with one-another for shared options. Of course, property owners can also post their properties in the group. The group is free for everyone, including property owners, to post and participate.
Property owners are encouraged to use the "Files" tab to post their available housing. For those that are unfamiliar with Facebook groups, there are tabs located in a sub-navigation menu under the group's cover photo.
Selecting the Files tab takes you to the Files Page. You have a couple of options on the Files Page. First, you can select "Create Doc" and enter the details of your housing option. Rachel encourages property owners to include City, State, Price, Details, and Contact Information in your description. Once your property is rented, it should be removed from the Files Page by selecting it and deleting it. This is the group's preferred method.
Your second option on the files page is to select one of the locations that's already listed. In the comments section, you can provide the details of your property. Many people seem to take this approach. However, this isn't the preferred method.
Property owners can also post their property descriptions on the Discussion page. To post on the Discussion page, simply select the Discussion tab and "Write a Post." You can also add images, video and files to your post. The image below illustrates the Discussion page with the Discussion Tab and Post Box circled.
When you post on the Discussion page, it's important to remember that your post will be pushed down in the pecking order each time someone posts a new discussion. This means that your post will get pushed farther and farther down the list over time causing it to get viewed less and less.
However, you can bring your post back to the top of the pecking order by simply commenting on the post. If you're a property owner, then you can post a comment that says, "This property is still available if anyone is interested" in order push your post to the top.
It's also important to know that Facebook groups can be searched. This is very helpful for travel nurses interested in using the groups to find housing. For example, if you're looking for housing in Los Angeles, California, then you can search for "Los Angeles" and the results will include only discussions that mention Los Angeles.
Finally, it's important to note that the Travel Nursing Places/Rooms for Rent Group is a "Closed" Facebook group. This means that you will be able to find the group, view the page, and request to be added. However, until you are added to the group you will not be able to see the discussions, members, events, photos or files. Once you're added to the group, your activity can only be viewed by members of the group. So, when you post in the group, your Facebook Friends will not be able to see the activity unless they're in the group too.
2) Travel Nurse Housing – The Gypsy Nurse (Facebook Group)
Travel Nurse Housing – The Gypsy Nurse is another Facebook group dedicated to travel nurse housing. The group was started by Candy Treft who is an experienced travel nurse and owner of Gypsy Nurse Consulting, LLC. The group has over 6,500 members.
Of course, all Facebook groups have the same features and functionality so we won't go into as much detail on how to use this group. Please see the description above for that. However, there are some important differences between this group and the previous group.
First, Candy Treft, the group administrator, does not overtly recommend use of the Files tab in the same way that Travel Nursing Places/Rooms for Rent does. Therefore, not many people seem to use it for posting their housing options. However, you can still use it this way if you'd like. The feature is still available to all group members.
Instead, the vast majority of property owners in this group post their housing options on the Discussion page which works the same as the other group.
Second, while the group description says that the group "was created to give those that are friends of the Gypsy Nurse a place to go to post housing needs and housing availability", it also says that "anyone is welcome to join, invite others, and post." We checked with Candy in January of 2015 and she confirmed that posting your property in the group is free of charge.
Finally, this group is "Public", while the group we discussed above is "Closed." The difference is that anyone who is logged in to a Facebook account can view all of the discussions that take place within the group. Additionally, your activity in the group will be displayed in your friends' news-feeds as Facebook's algorithm determines.
If you're very private, then you may not like this. However, it can do wonders for getting the word out about a property. For example, if you post your property and a travel nurse comments on the post, then the travel nurse's friends might see the post which means that more potential renters will see your property.
3) Travel Nurse Housing on Travel Nursing Central
Travel Nursing Central is a popular website devoted to travel nursing. The website was started in the early 2000's by a travel nurse. It is now owned by Medical Solutions, one of the largest travel nursing companies in the nation. The website is most popular as resource for agency and hospital ratings.
However, the site has tons of other useful features and services. One of the many services they provide is a classified advertising service for housing options. The service allows registered members to post advertisements for rental properties. The publishing form has fields that allow you to select a state, enter a title, monthly price, city, number of bathrooms, number of bedrooms, nearby hospitals, and more. All of these fields are great because they improve the search functionality of the service making it much easier for travelers to find what they're looking for. You can also upload up to 4 images for your advertisement.
The service also allows travel nurses to place advertisements for housing that they're seeking. The publishing form is the same. This is great for property owners because you can search for potential tenants seeking options near you.
The service currently has 2,144 postings. It also has a view counter indicating that the site has received well over 1 million page views. And best of all, it's free to post!
4) The Gypsy Nurse Housing Listings
As of 8/26/2015, The Gypsy Nurse housing service appears to be inactive.
GypsyNurse.com is owned by Gypsy Nurse Consulting, LLC. The website is dedicated to travel nursing and has several useful services. Among them is a housing listing service dedicated to travel nursing.
Upon registering for the service, property owners can post advertisements for their properties. The publishing form allows you to enter a title and requires that you enter the property's address in order for the system to locate the property on a map. You can then select from a host of categories that describe the property.
The service offers free and premium posting options. The free option allows you to post your listing for 30 days. For $25 you can keep your individual listing posted for 1 full year. The advantage is that you won't have to republish your advertisement every 30 days. Corporate users, such as apartment complexes, can publish their listings for 1 year for a $50 fee.
Potential tenants can register for the site, browse listings and contact property owners through the site. Users can also rate listings. However, we're not sure what happens to the ratings when the listings expire. Also, the service appears to have a search feature, but we were unable to get it to work. We're sure they'll get this fixed though.
Judging by the number of pages containing listings, it appears as though there are fewer than 100 listings. However, unlike Travel Nursing Central's listings, the listings on the The Gypsy Nurse Website expire. The website gets a fair amount of traffic so it's definitely worth the limited effort for both travelers and property owners to utilize the service.
5) FurnishedFinder.com
FurnishedFinder.com is a service that assists travel healthcare professionals with the housing search and procurement process. However, it's important to note that Furnished Finder assists contract professionals of all types, not just travel healthcare professionals.
Furnished Finder facilitates the lease, manages the utilities, pays the move-in costs (except deposit), and takes care of furniture delivery and pick up if needed. Travelers sign the lease, pay the deposit, and make weekly payments to Furnished Finder to cover all the remaining costs. Travelers can start making weekly payments as soon as they start receiving paychecks for their assignment. Furnished Finder provides all of these services for a fee to be paid by the traveler.
Furnished Finder also allows property owners to post their housing options for free on the company's website. Upon registering, property owners can complete a highly detailed publication form to describe their property. When submitted, the property is listed on Furnished Finder's Property Search Map.
This allows both travelers and Furnished Finder representatives to find the property. When a property owner's property is selected as a potential housing option, Furnished Finder's representatives will contact the property owner to discuss the details. The property owner can edit their listings anytime.
6) TravelingNurseCorporateHousing.com
Despite the name, TravelingNurseCorporateHousing.com isn't strictly devoted to travel healthcare professionals. The website is owned by CHBO, Corporate Housing By Owner. "Corporate Housing" is a term that is commonly used to refer to housing options that will accommodate the longer term stays typically required by professionals traveling away from home to complete contract work.
The advantage of this service for travel healthcare professionals is that it should display only properties that are willing to accept month-to-month lease agreements. Moreover, most of the options are already furnished. Additionally, many of the options include the cost of utilities and have all the basic services, such as cable and internet, already set up.
Property owners can post their properties with the service for a price. The cheapest listing is $129 for 1 month. However, a 12 month listing is only $279.
It's important to note that CHBO has a feature that pushes listings onto external sites such as HotPads.com, Sublet.com and Zillow. This feature is free for all listings, regardless of price. This can be a great feature if you simply want to get your property rented.
However, if you're looking to rent your property only to traveling professionals, then you can turn this feature off. We believe that you can turn the feature off during the posting process, but we were unable to confirm this because you have to pay before you can go through the listing process. Either way, a company representative provided us with details on how to turn the feature off once your listing has been posted.
These 6 options are great for property owners who want to rent their properties to travel healthcare professionals. They're also a great place for travel healthcare professionals to search for housing. They each have their own advantages and disadvantages, but they all warrant consideration.
As always, we hope you found this information useful. We'd love to hear your questions and comments about this topic. Please share them in the comments section below. And please let us know if we missed a niche option for travel healthcare housing!